Held on International Jazz Day in support of healthcare workers, the Doctor Jazz Party online charity telethon became a highlight of Russian cultural life under lockdown. The event brought together some of the world's top musicians and prominent doctors who urged everyone to stand united in the face of the coronavirus threat. Read this RIA Novosti article to learn how it all came about.
The best of the best
The telethon lasted for seven hours, transporting viewers into a new dimension of quality music, free from advertising, with no one trying to sell or pitch anything. Instead people were helping and wishing each other well.
The Doctor Jazz Party made a big statement, becoming the first such jazz event in Russia to gather 1.7 million viewers or even more.
About 30 jazz bands and musicians from across the world took part in the online telethon, including from Russia, the United States, China, Italy, India, Japan, Armenia and some other countries too. Russian jazz lovers have fond memories and are familiar with quite a few of these performers who have already taken part in the Koktebel Jazz Party festival over the past few years and had marvelous memories about the event.
It was symbolic that all foreign guests who were invited to take part in the telethon accepted the invitation and did not charge a fee to perform.
Chinese musicians recorded a touching message to Russian doctors. Jasmine Chen from Jasmine and Her Jazz Men said in her video address recorded on top of a Shanghai high-rise: "Hello my dear Russian doctors and nurses. I am Jasmine Chen and we are Jasmine and Her Jazz Men from China. We know that you are working very hard fighting COVID-19. You are true heroes. Stay strong. We wish you all the best. Take care."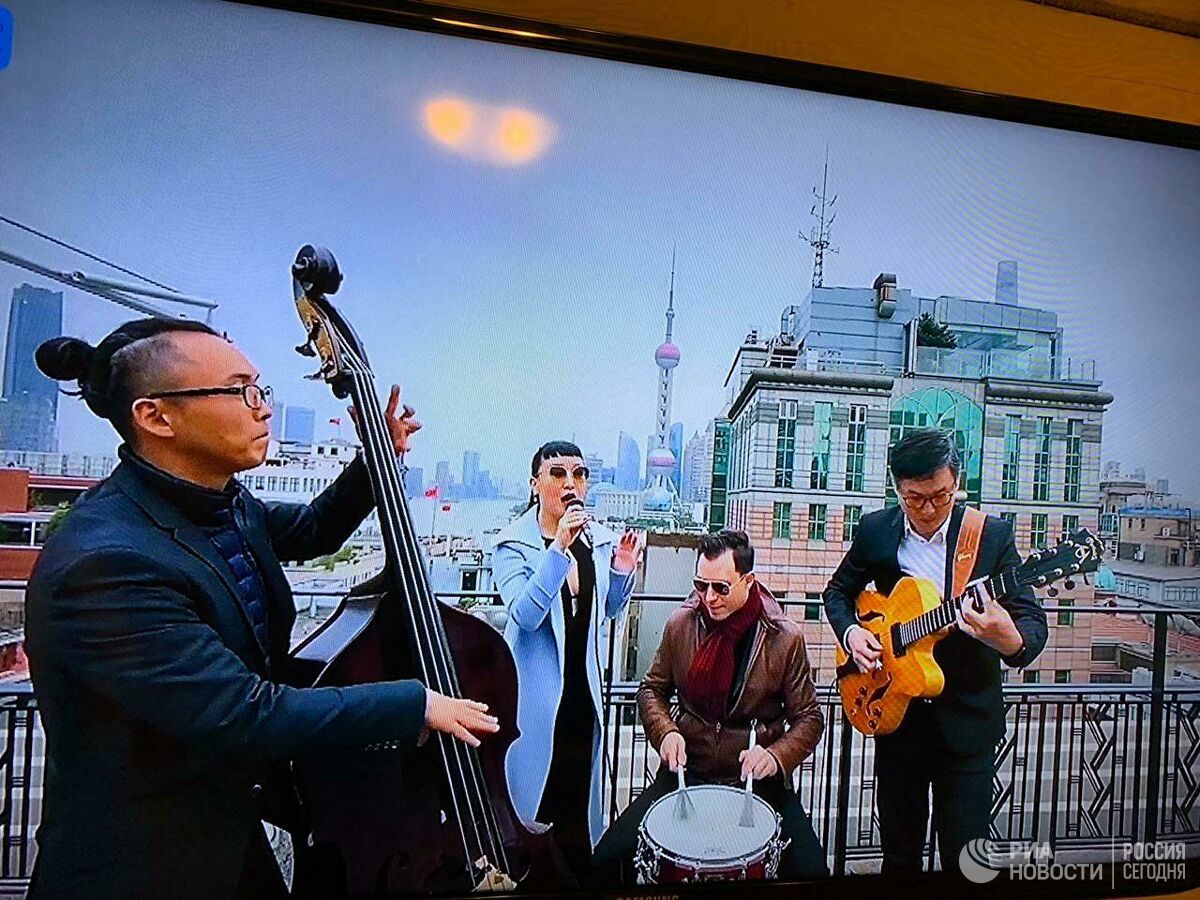 Another participant, pianist Marta Kato from Japan's Tachibana Quintet, said that she was staying at home most of the time these days, and called on everyone to take all the necessary precautions. "I hope that you will all be safe and well," she noted.
Li Xiaochuan, a Chinese trumpeter, who has already performed at Koktebel, said during the stream on ria.ru that these were challenging times for musicians, but he expressed hope that we will overcome the coronavirus "so that we can once again play live."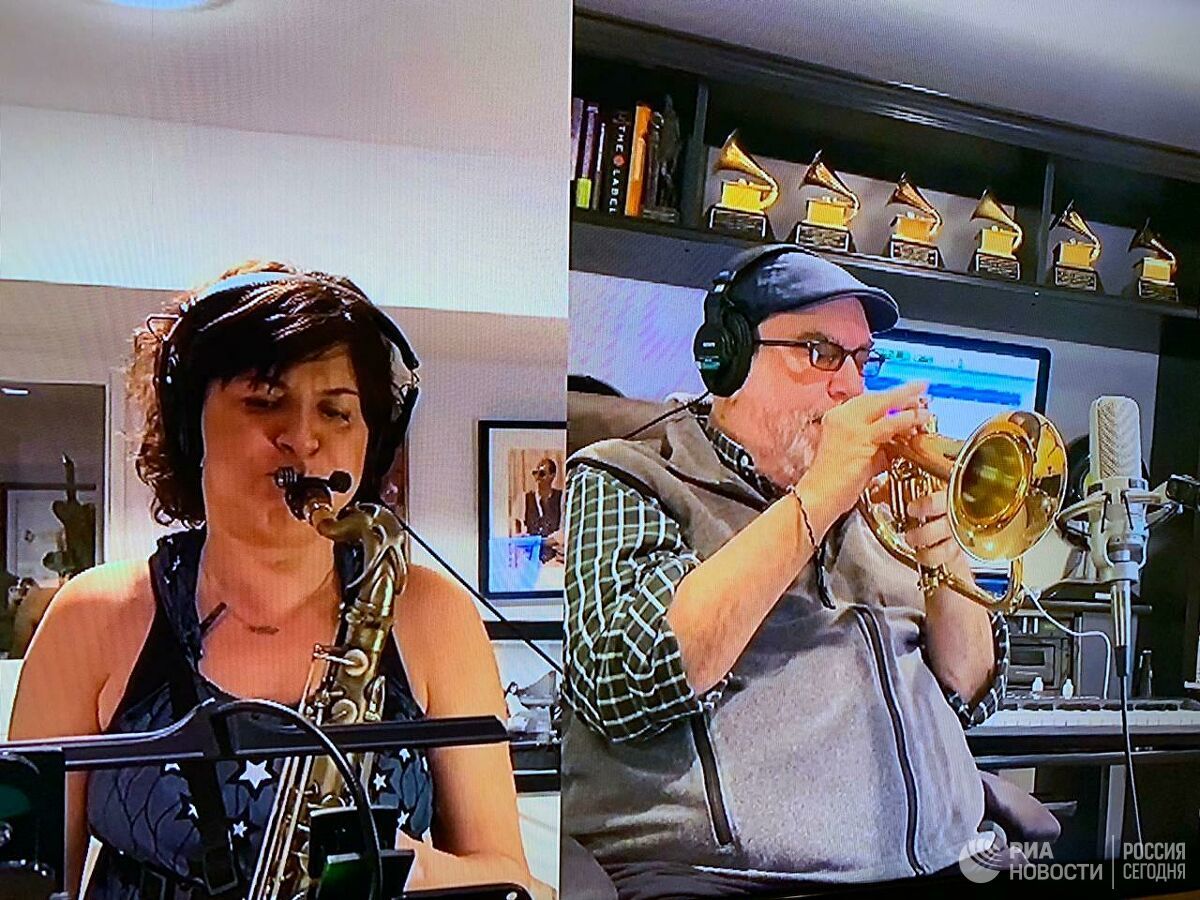 Grammy award winning trumpeter Randy Brecker shared his impressions about the Koktebel Jazz Party: "Koktebel was wonderful with its beautiful beach and the sea," he said, adding that he wished everyone good health and wonderful times ahead. "We love you, I love coming to see you," he enthused.
One of the most popular Rock'n'Roll pianists of our time, Matthew Rizzi, acknowledged that he has not been to Koktebel so far, but would like to go there. "In these hard times music helps us keep our smiles. I hope you like it, and I hope to see you very soon live in Russia," he said.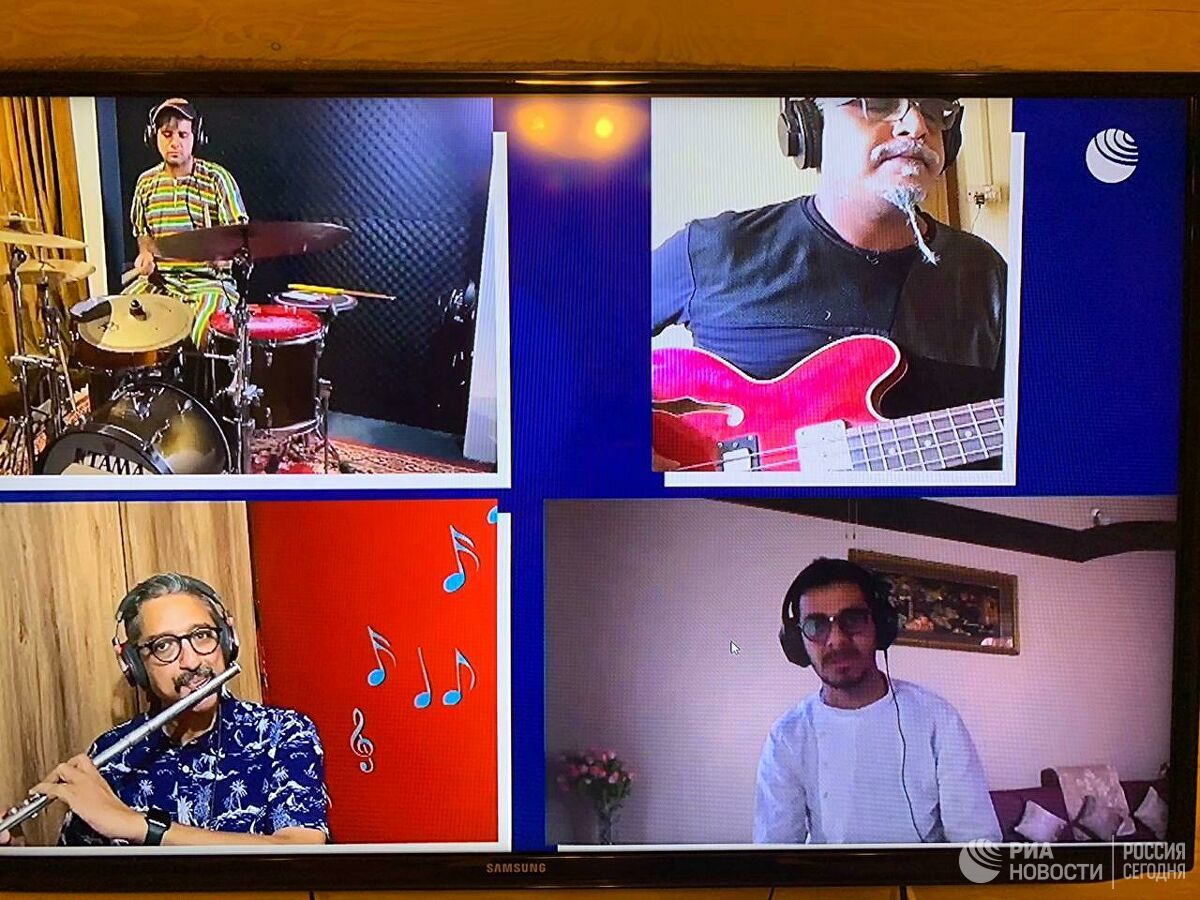 The telethon covered all parts of the world.  Musicians from India also recorded messages of support. Rajeev Raja and his The Rajeev Raja Combine said that music was a great healer. "We are here to share our love and our music," Rajeev said.
Russian jazz stars were also active during the telethon. In fact, it opened with What a Wonderful World performed by Larisa Dolina who told everyone to keep up the jazz rhythm, listen to good music and said that this way "everything will be jazz-right."
Tatiana Shamanina, who sings vocals in the Guru Groove Foundation, used her time on screen to tell all the viewers and doctors how much she loved them.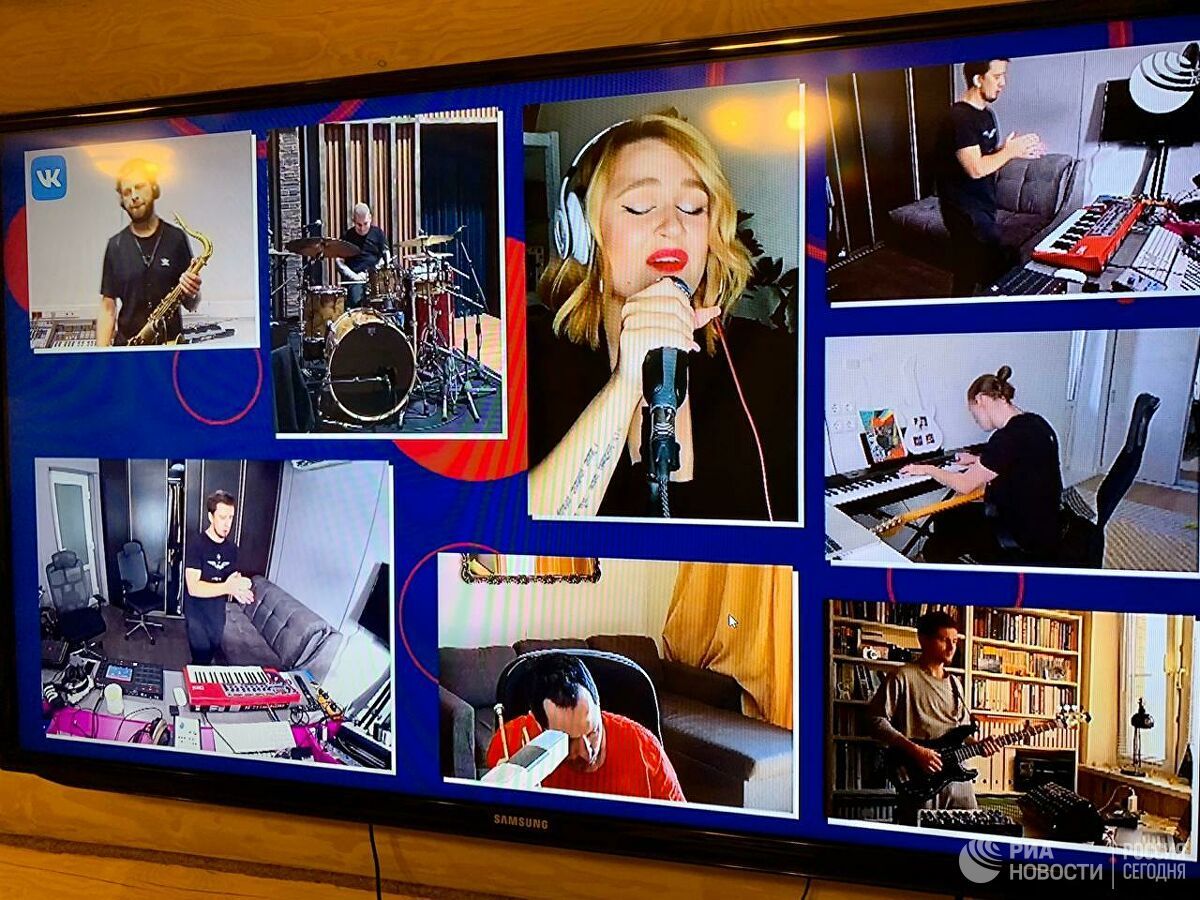 "The fact that the Doctor Jazz Party online telethon is now taking place will definitely help us persevere in these most challenging times. We must be strong in spirit, so that nothing breaks it. I would like to express my deepest gratitude for the noble work you are doing," Shamanina said.
Pianist Daniil Kramer said that "no matter what happens, life goes on, and will always go on," adding that the telethon offered an opportunity to "support viewers and share with them the drive musicians feel when they play."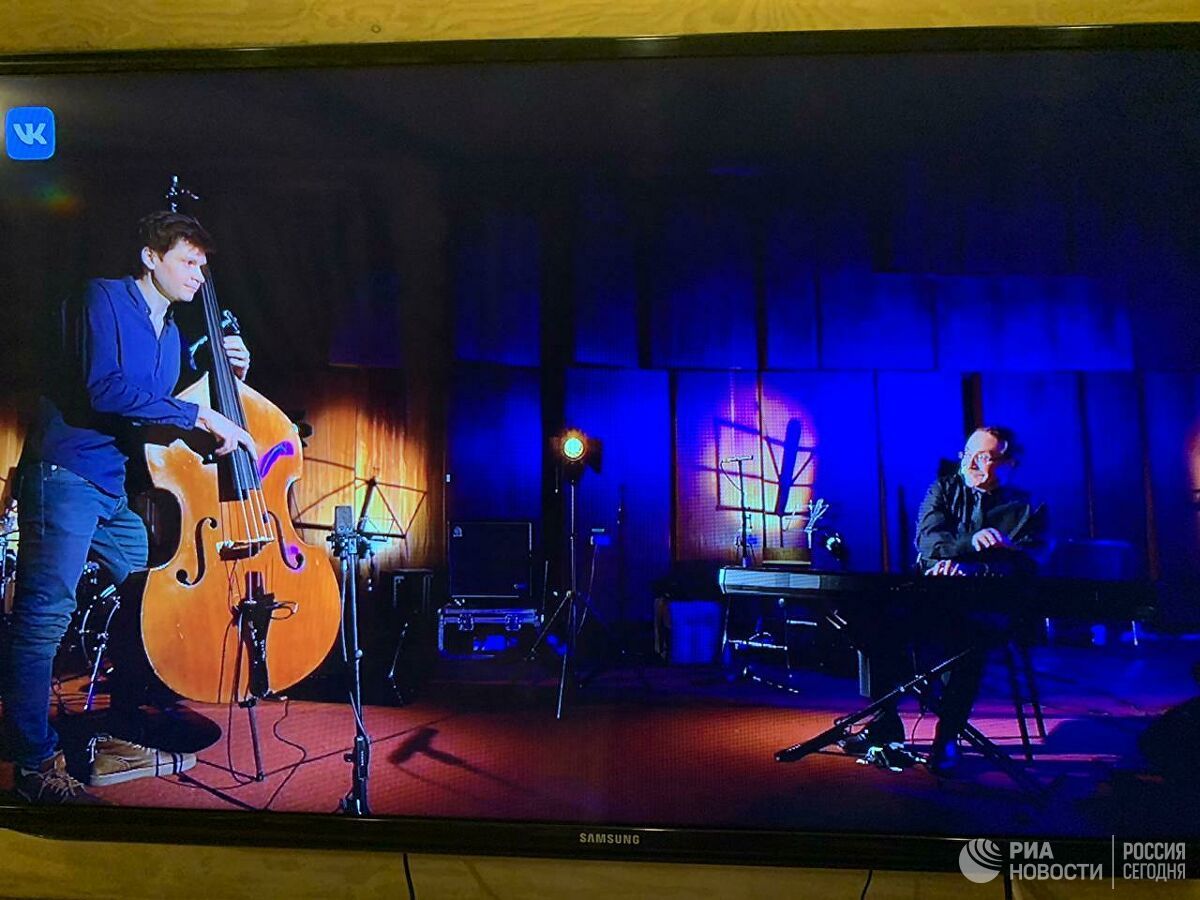 The Doctor Jazz Party organizers had a number of surprises up their sleeves: saxophonist Sergei Golovnya and Koktebel Jazz Party's artistic director, played via videoconference with harmonicist Maxim Nekrasov. Golovnya was in the Moscow studio, while Nekrasov was performing from St. Petersburg. They dedicated their piece to doctors as the heroes of our time.
The Igor Butman quartet, as well as Mariam Merabova, the Pyotr Vostokov band, the Vitaly Golovnyov quintet, Yulia Chicherina with other musicians came together to support doctors.
Super heroes on the frontlines
Doctors were center stage during the telethon. As it turned out, many of them are jazz aficionados. In their video messages they gave viewers food for thought, brought joy, as well as tears, and called on everyone to support their colleagues across the country.
Sergei Morozov, Chief Officer for X-ray and Instrumental Diagnostics at Moscow's Department of Healthcare, thanked the organizers of the Doctor Jazz Party online telethon for their emotional support, as well as colleagues for their "contribution to saving the entire humanity."
"The world is going through turbulent times these days. The ongoing pandemic does not spare anyone, and of course doctors are facing a lot of stress. Some even may feel burned out at work. This is an uphill struggle for them, and they are working around the clock. Thank you for your help. All doctors on the frontlines really need your emotional support," Morozov said.
Dmitry Pushkar, Chief External Expert Urologist and Head of the Urology Department at Yevdokomov Moscow State University of Medicine and Dentistry, said that the telethon promoted "our fundamental values" and showed that "cooperatively we will win."
"Getting together, listening to music and communicating with each other are our fundamental values, and the telethon promotes them. Today we have to communicate online, but have no doubt this won't last forever, and the time will come when we will have music events as before, so that we can stand once again shoulder to shoulder. And I strongly believe that we will win. Thank you very much," Dmitry Pushkar pointed out.
He went on to say that the "telethon has great importance for all of us, for all doctors."
Moscow's Chief External Psychiatrist and Addiction Care Doctor Yevgeny Bryun noted that the doctors were there to save the actual people, not just Hollywood stars, while Yelena Petryaikina, Chief Children's External Endocrinologist at the Morozov Children's Hospital, said that jazz helped "overcome the challenges offering an opportunity to smile in the midst of a major disaster, and at the same time gave us confidence that we will succeed."
"I would like to express my deepest gratitude to the organizers and all those who were involved in helping to make this marvelous idea a reality. During these challenging times we get a chance to think about timeless values… Jazz is all about overcoming challenges, offering an opportunity to smile in the midst of a major disaster, and giving us confidence that we will succeed," Petryaikina said.
She added that doctors will do everything to "overcome the disaster we are facing so that we keep all children who come to visit us in good health, which is our priority and my main message for all healthcare institutions."
One of the participants said that the coronavirus made our homeland sick, but it made our love to our country even stronger, just as we all care about our mothers when they fall sick. Healthcare Ministry's Chief External Oncology Expert Andrei Kaprin noted that the Russian people must defeat the coronavirus just as they won the war.
"I always say that our grandfathers won, our fathers won, and we must win too! I wish you every success and good health," he said.
Many doctors, including President at Dmitry Rogachev National Research Center of Pediatric Haematology/Oncology and Immunology, Alexander Rumyantsev, Director at Vishnevsky Institute of Surgery, Healthcare Ministry Chief External  Surgeon Amiran Revishvili, Acting Chief Medical Officer at the Central Children's Clinical Hospital of the Federal Medical and Biological Agency, Galina Glukhova, and many other health professionals recorded video messages in support of their colleagues.
On a grand scale
Koktebel Jazz Party Artistic Director, Mikhail Ikonnikov, and television presenter Olga Skabeyeva formed a brilliant tandem to animate this hours-long musical relay.
They moderated the show proactively and at the same time with a touch of warmth together with tenderness, talking to musicians, and sharing their amazing stories about jazz and the Koktebel festival. It was during the live stream that there was the breaking news that Russian Prime Minister Mikhail Mishustin had tested positive for the coronovirus, and the telethon hosts immediately reported this.
The Doctor Jazz Party online telethon was held by Rossiya Segodnya, with support from the Russian Direct Investment Fund. It was organized by Rossiya Segodnya, the Red Square Group and the Koktebel Jazz Party international jazz festival, with support from the Coronavirus Response Alliance.
Journalist and Director General at Rossiya Segodnya, Dmitry Kiselev, who had the idea of holding the online telethon, said that Russia wanted to show solidarity with the entire world in this unprecedented fight against the coronavirus. "By holding the Doctor Jazz Party on International Jazz Day we want to support Russian hospitals and healthcare professionals, those who are on the frontlines of fighting the pandemic. Stay at home, listen to jazz and help the doctors," he pointed out.
Rossiya Segodnya has been able to draw a number of major media platforms into this event.
The Doctor Jazz Party online charity telethon partners were Rossiya 24 and Rossiya-Kultura TV channels, Moskva TV channel's The City project, Vesti.Ru news network, Vesti FM Radio, JAZZ 89.1 FM, Yandex search engine and internet portal, мывместе2020.рф (we are together) national campaign for mutual assistance, National Priorities autonomous NGO, стопкоронавирус.рф website and Sputnik Radio.
The live stream from the telethon was available on websites and VKontakte accounts of ria.ru, as well as the Koktebel Jazz Party and at стопкоронавирус.рф. #МыВместе (we are together) was the telethon's official hashtag.
The purpose of the online telethon was to collected donations to support Russian hospitals in fighting the incidence of COVID-19.
Zhivoi Charity Foundation acted as the telethon operator.
The Koktebel Jazz Party emerged in 2003 as a private initiative of journalist Dmitry Kiselev, the founder of Koktebel jazz festival. A tiny Crimean town gave its name to the festival, which currently is recognized as one of the leading jazz festivals of the world. Over the years people like legendary American drummer Jimmy Cobb, winner of the Latin Grammy Award for Best Latin Jazz Album Gonzalo Rubalcaba from Cuba, bass guitarist and bass player Stanley Clarke, who is famous for his innovative technique, Nu-jazz stars Club Des Belugas from Germany, one-of-a-kind saxophonist Robert Anchipolovsky from Israel, and German band De-Phazz from Heidelberg have all attended. In 2017, Vladimir Putin was a KJP guest.
The Russian Culture Ministry has been supporting the Koktebel Jazz Party since 2014.
Russian Direct Investment Fund (RDIF) was set up in 2011 to invest in the share capital of companies jointly with leading foreign strategic investors. Together with its partners, RDIF has implemented over 80 projects totaling over 1.8 trillion rubles and involving 95 percent of Russia's regions.
RDIF is making vigorous efforts to counter COVID-19: the production of the Russian-Japanese EMG express diagnostics systems with a maximum accuracy of 99.9 percent and a maximum testing time of up to 30 minutes was launched; the production of the anti-viral medicine Favipiravir is being launched jointly with the Chemrar Group; a pneumonia diagnostic project using AI technology was launched by RDIF in partnership with Medscan Group and G42, a UAE company. RDIF was among the initial founders of the Alliance Against Coronavirus, which was subsequently joined by the Russian Union of Industrialists and Entrepreneurs (RUIE), Yandex, Mail.ru Group and Rossiya Segodnya.
Zhivoi charity foundation for assisting adults was set up in 2010 to help severely ill people aged 18 to 60 who need urgent treatment and rehabilitation. Since 2017, the foundation has also been working to help Russian hospitals and social facilities. Due to the coronavirus pandemic, the foundation made a decision to launch a project the purpose of which is to purchase PPE kits and then distribute them to doctors in the Russia regions.